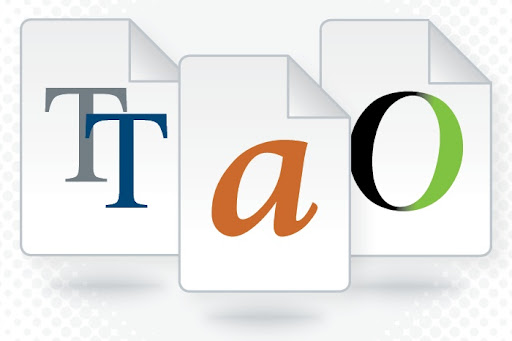 Font file format is the first thing that comes to mind when we start applying different styles to our text, no matter either we are writing business documents (e.g. letters, applications, or emails) on our computer or writing content on the web pages of our website. If we want to style our content a little bit differently than usually used fonts, we need to choose custom font files. It is the moment when the font file format term becomes worthy. This article will briefly explain  OTF, TTF, WOFF, SVG, and EOF which are the most widely used font file formats.
True Type Font Format (TTF)
TTF files are based on the TrueType specifications font technology. Earlier it was launched by Apple Computer, Inc for Mac OS, and later on, it was adopted by Microsoft Windows Operating System. TrueType fonts provide the best quality display on printers and computer screens without any depending on the resolution. All recent apps are able to work with TTF files in order to deal with fonts. The TTF font files are cost-free and available over the internet.
Open Type Font Format (OTF)
OTF files are referred to as OpenType font format. The OTF font format extends the existing features of TTF formats and is more scalable than TTF for digital typography. It was developed by Adobe and Microsoft. The OTF combines the features of TrueType font formats and PostScript, which makes OTF format oblige majority writing systems and platform-independent. The OpenType font format is supported by Windows 2000 or later and Mac OS X.
Web Open Font Format (WOFF or WOFF2)
WOFF font format compresses table-based sfnt structures related to font data which are used in various font types such as OpenType or TrueType Format. It acts as a container for various font types and can comprise the font's metadata and private data. The sfnt files are converted into a WOFF formatted file by the converter and user agents reinstate the encoded file usable with the web document. Please note that the restored font data exactly matches the input font format without losing any of the aspects.
Open Type Scalable Vector Graphic (OT-SVG)
The Open Type Scalable Vector Graphic format is the modern and most demanding in the font families. This file format is similar to OTF but it also has some additional and impressive features. With OT-SVG's you can actually create fonts with textures of various colors. Since the texture is involved in this font file type, we can't say it is a vector. In fact, it is a bitmap raster font. By using this font, you can create beautiful textured multi-colored characters. Please note that for now, only Safari currently supports it.
Embedded Open Type Font Format (EOT)
The EOT file format contains a single EMBEDDEDFONT structure that can represent enough basic information about the font name and supported characters. The packing of this information forces User Agents to avoid decompressing, unpacking, or installing the font if it is already installed on the machine. These fonts are widely used in web pages. It was developed by Microsoft and is supported by their Products such as PowerPoint presentation .pps file
Conclusion
You can find many fonts which you can use in your daily routine writing but it will be a plus if you will learn about the font file formats. It will help you to decide that when and where which type of font will be suitable to use. Obviously, you should choose the things according to the need.